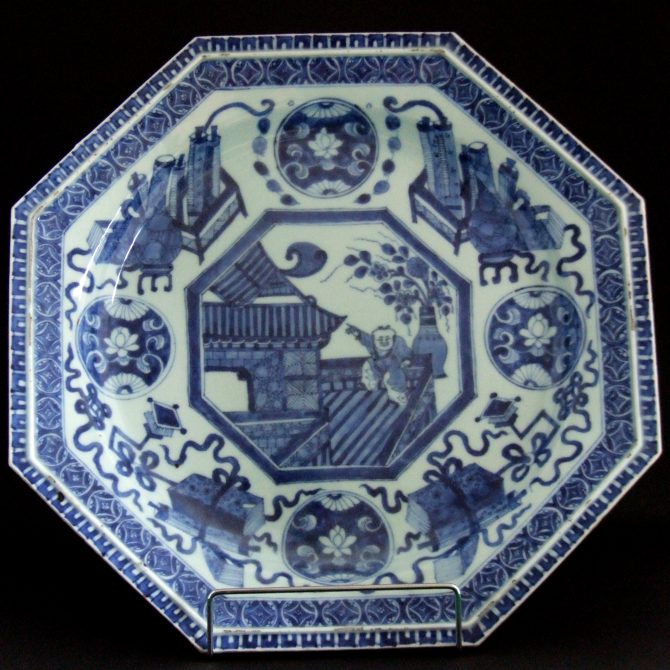 YONGZHENG or QIANLONG c.1730 – 1740 Chinese Export Porcelain
A Large Early 18th Century Chinese Export Porcelain Dish, Late Kangxi, Yongzheng or Early Qianlong c.1720 to 1740. The Very Thickly Potted Porcelain Dish is Modelled on a European Silver Prototype. The Chinese Subject Matter is of a Boy in a Garden by a Building. The Cavetto is of `Antiques` and Buddhist Images. There is a Raised Rim, then a Gadroon Edge.
SOLD
Condition

In excellent condition. Some fritting to the raised line set back from the edge. The dish has some marks where it has stuck to something in the kiln on two edges. The clarity of the blue has been somewhat dulled in the center due to the amount of cobalt in the glaze and number of tiny bubbles within the glaze.

Size

Diameter : 41 cm (16 inches)

Provenance

N/A

Stock number

23549

References

Dishes of this shape with the same border are know with English armorials. One with the arms of Talbot, the other with the arms of Sayer impaling Talbot. David Howard dates both to c.1705, however they appear to be contemporary with the present example which I have dated on stylistic and technical grounds c.1720-1740. Exton Sayer (c.1691-1731) led for the Government in resisting an opposition sponsored petition to end the monopoly of the East India Company in 1730. For examples of these blue and white porcelain armorial dishes see : Chinese Armorial Porcelain (David Sanctuary Howard,Faber and Faber, 1974) page 161, A1.