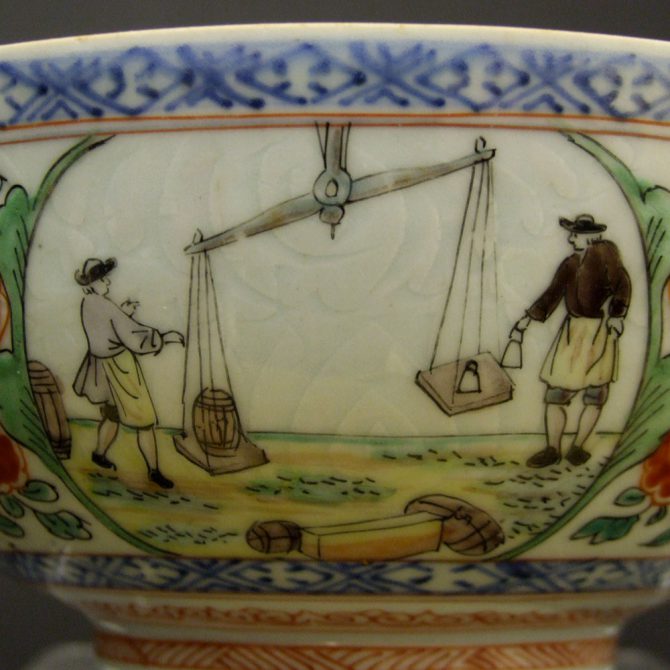 YONGZHENG or QIANLONG c.1730 – 1750 Dutch Decorated Chinese Export Porcelain
A Very Rare, Apparently Unrecorded, Dutch Decorated Chinese Export Porcelain Depicting the Weighing and Taxation of Butter. The Chinese Porcelain is Yongzheng or Early Qianlong c.1730-1750, The Dutch Decoration c.1740-1750.
SOLD
Condition

Very good, a small shallow chip to the inside rim c.4 x 2 mm, some wear to the peony decoration to the well of the bowl

Size

Diameter : 14.8 cm (6 inches)

Provenance

N/A

Stock number

22609

References

For a Chinese En Grisaille decorated teabowl and saucer, Qianlong c.1770, depicting a corn exchange in Amsterdam after an engraving of 1768 see : European Scenes on Chinese Art (Introduction by Teresa Canepa, Jorge Welsh Books, 2005. ISBN 0-9550992-1-8) pages 150-151. For a series of Chinese export porcelain dishes decorated in Holland depicting Dutch town and one in particular that relates to the present example see : La Porcelaine Des Compagnies Des Indes A Decor Occidental (Francois et Nicole Hervouet, Yves Bruneau. Flammarion, 1986. ISBN 2-08-010990-1) pages 392 to 397.
Information

This blue and white Chinese export porcelain Bowl has a central section with incised decoration. Many of these Bowls, which are of a standard size, have Dutch enamelled decoration. Maybe they were ordered especially but equally the Dutch might have thought they were too plain and thought they couldn`t sell them, so had them enamelled in bright colours.
A Dutch Decorated Bowl with Scenes of Butter Taxing :
This extremely unusual scene of a civic building on one side and barrels being weighed on the other appears to be unique. In many Dutch market towns the local government imposed taxes on food. Special buildings were erected called `Waaggebouw` or `Boterwaag`. They can still be found in Dutch towns north of the Rhine. The buildings varied in size and grandeur, presumably the more impressive the building the greater the feeling of civic pride and power. These buildings were sometimes built next to a canal so the goods in transit could be weighed on their arrival. It appears that the Boterwaag depicted is not been possible to identify and so it might be taken from a book or be an invention based on the general idea of a Boterwaag. The people using the scales would have tax officials. The scales used were enormous, a pair still exist in Delft in a converted Boterwaag that is now a restaurant (Stadscafe De Waag, Markt 11, 2611 GP Delft). The last picture is a Boterwaag in Alkmaar painted in 1660 (Sted I would like to thank Mrs Helen Espir for her help in identifying the subject and checking so thoroughly with museum curators in Holland including the Rijksmuseum in Amsterdam.