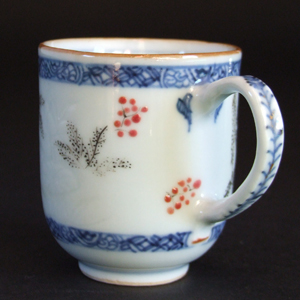 YONGZHENG or QIANLONG c.1730 – 1750 London Decorated Chinese Porcelain
A London Decorated Chinese Porcelain Coffee Cup, Yongzheng (1723-1735) or Early Qianlong (1736-1795). Decorated with Two Diaper Borders in Blue and White, the Central Register is Decorated in An Hua (secret decoration) with Incised Flowers. The Decoration Added in London in the 1750`s Relates to Bow. The Decoration is of En Grisaille Grape Leaves, the Grapes are Picked out in Pink.
SOLD
Condition

Perfect.

Size

Height : 6 cm (2 3/8 inches)

Provenance

Geoffrey Waters, Kings Road London. 7th May 1997. The Helen Espir Collection of European Decorated Chinese Export Porcelain : "a member of the Oriental Ceramic Society and collector, with her husband. Having made a typical collection of Song and provincial Ming blue and white, they decided to concentrate on what used to be called `clobbered` porcelain. She is the author of the standard work on the subject, European Decoration on Oriental Porcelain,2005, the first to examine the work of European decorators on Chinese porcelain throughout the eighteenth and nineteenth centuries, focusing on enamellers in Holland, Germany and England. She has learned Chinese." From Provenance ; Collectors, Dealers & Scholars : Chinese Ceramics in Britain & America (Roy Davids, Dominic Jellinek, Privately Printed, 2011. ISBN 978-0-9570148-0-0).

Stock number

23645

References

For a group of Chinese teawares with this decoration see : The Watney Collection of Chinese Porcelain Decorated in Holland and England, Bonham`s London, 7th November 2003, page 43, lot 70. European Decoration on Oriental Porcelain 1700 - 1830 (Helen Espir, Jorge Welsh Books, 2005) page 227, plate 29. An exhibition at the British Museum organised by the Oriental Ceramics Society `East Meets West : Oriental Porcelain Decorated in Europe` in 2000. Published in `Transactions of the Oriental Ceramic Society` Volume 65. 2000-2001. Item 68, page 116. Early James Giles, item 28.
Information
The decoration relates to a number of Chinese Export Porcelain objects with English decoration as well decoration on Bow porcelain. This type of pattern may have been decorated at the Giles workshop. Bow porcelain, is known to have been enamelled in Kentish Town by Giles as well as in John Bolton`s workshop.