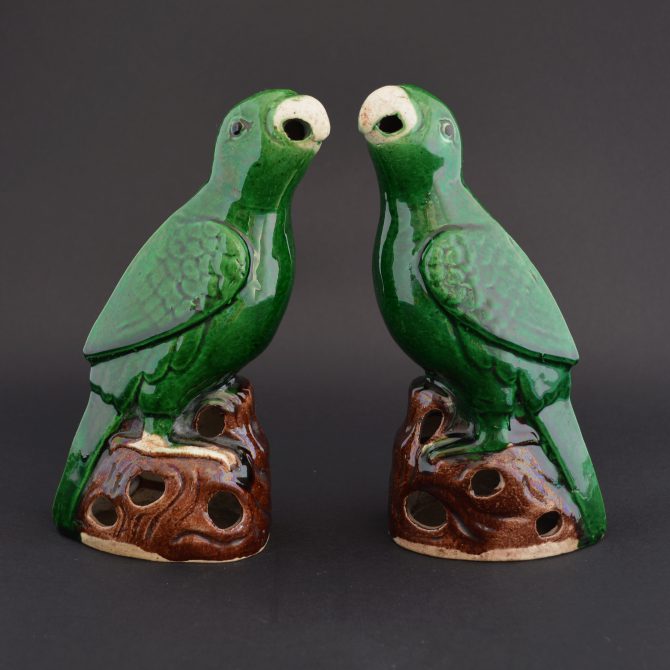 YONGZHENG or QIANLONG c.1730 – 1780 Chinese Export Porcelain
A Pair of Chinese Export Porcelain Biscuit Glazed Parrots, Yongzheng or Qianlong Period c.1730-1780. The Facing Pair Stand on Pierced Rockwork.
SOLD
Condition

In excellent condition with no damage, however the unglazed beaks would have originally been 'cold-painted' in red.

Size

Height : 19 cm (7 1/2 inches)

Provenance

N/A

Stock number

24244

References

For three similar biscuit glazed parrots dated to the first half of the 18th century see : La Collection de Porcelaines Chinoises de, The Chinese Porcelain Collection of Marie Vergottis (John Ayres, Foundation George et Marie Vergottis-Lausanne, Les Bibliotheque des Arts, 2004. ISBN 2-88453-116-5) page 159, plates 195-197. For a similar 18th century biscuit porcelain parrot see A Tale of Three Cities, Canton, Shanghai & Hong Kong, Three Centuries of Sino-British Trade in the Decorative Arts (David S. Howard, Sotheby`s) page 135, plate 172 (left). A pair of earlier Famille Verte biscuit porcelain parrots dated to 1700-1720 see : The Copeland Collection, Chinese and Japanese Ceramic Figures (William Sergent, The Peabody Museum of Salem, 1991) page 92. For related pairs of 18th century Chinese export porcelain parrots see our : `Sold Items` number 18708 and 21032.
Information
Chinese export porcelain biscuit glazed parrots were made over a long period, in fact they are still being made today. It is not the case, as is sometimes said, that they were made during the early 18th century with revivals being made at the end of the 19th century. They were made in relatively small numbers but datable examples show they were pretty much never out of production from the Kangxi period (1662-1722) on.