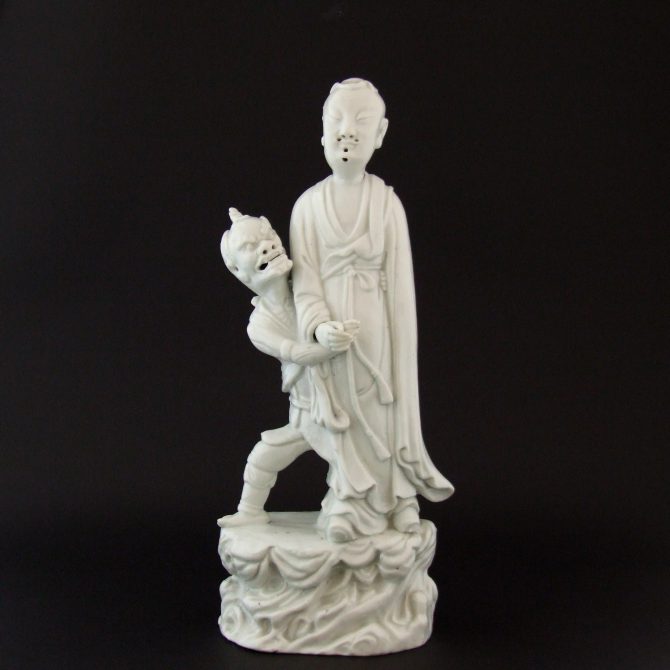 YONGZHENG to JIAQING c.1730 – 1820 Blanc de Chine Porcelain
A Large Blanc de Chine Porcelain Group of Wen Chang and Kui Xing, Dehua Kilns, Fujian Province, Yongzheng, Qianlong or Jiaqing c.1730-1820. Wen Chang Stands Aloof with His Eyes Closed While a Diminutive Kui Xing with Dragon Like Features Supports Him Around his Waist and Under His Right Hand. The Group Stand on a High Oval Rock-Work Base. Wen Chang has Four Holes Around His Mouth for Hair to be Added.
SOLD
Condition

Kui Xing's head neatly re-stuck. One of Wen Chang's fingers restored.

Size

Height : 33 cm (11 inches)

Provenance

N/A

Stock number

23406

References

For a very similar group dated to the 17th century see : Blanc de Chine, Divine Images in Porcelain (John Ayres, China Institute Gallery, New York, 2002) page 95, plate 46.
Information
Blanc de Chine Porcelain :
The porcelain known in the West as Blanc de Chine was produced 300 miles south of the main Chinese kiln complex of Jingdezhen. The term refers to the fine grain white porcelain made at the kilns situated near Dehua in the coastal province of Fujian, these kilns also produced other types of porcelain. A rather freely painted blue and white ware, porcelain with brightly coloured `Swatow` type enamels as well as pieces with a brown iron-rich glaze. However, it is the white Blanc de Chine wares that have made these kilns famous. The quality and colour achieved by the Dehua potters was partly due to the local porcelain-stone, it was unusually pure and was used without kaolin being added. This, combined with a low iron content and other chemical factors within the body, as well as the glaze, enabled the potters to produce superb ivory-white porcelain. White porcelain was made at the Dehua kilns from early times, some books refer to the white porcelain produced during the Yuan period as being Blanc de Chine, but I think it is not really until the latter stages of the Ming dynasty, during the late 16th century, that a porcelain with clearly recognisable Blanc de Chine characteristics was produced. There is a theory that there was a brake in production during a large part of the 18th century. I am highly sceptical of this, it seams likely that Blanc de Chine porcelain was made all the way through, uninterrupted from the Ming dynasty to the present.
Kui Xing :
Kui Xing sometimes referred to as `Great Kui the Star Prince`. In Daoist tradition, Kui Xing is said to have been "bent and hunchbacked, as if he were an actual calligraphy character", and came to be viewed as a saint of human fortune, particularly with regard to imperial examinations. The poorly dressed, demon like figure is often depicted standing on his right foot. He is sometimes depicted with Wen Chang the god of literature. He appears as Wen Chang`s assistant or servant. The late Ming Dynasty scholar Gu Yan-Wu wrote of Kui Xing in his Record of Historical Knowledge: "The date of the beginning of modern people`s veneration of Kui Xing is unknown.