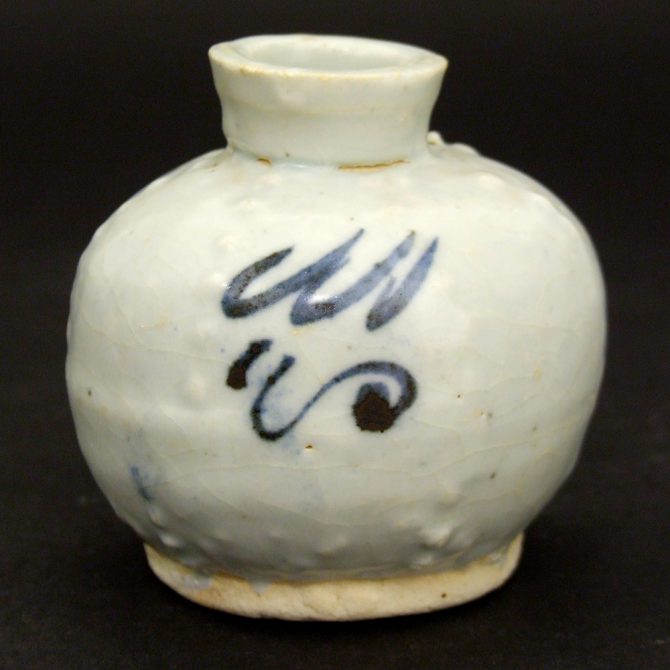 YUAN 1279 – 1368. Early Blue and White Porcelain.
A Yuan Blue and White Porcelain Jarlet, Jingdezhen Kilns c.1320 – 1368. This Early Chinese Blue and White Porcelain Jarlet is Decorated with Simple Abstract Designs Possibly Representing Clouds. The Body has Shallowly Moulded Beaded Decoration.
SOLD
Condition

Very good, two minute glaze frits to the rim c.1mm. Some very light crazing.

Size

Height : 7 cm (2 3/4 inches)

Provenance

N/A

Stock number

21093
Information
The origins of Chinese blue and white porcelain start, not in China, but in the Middle East, decoration using blue and white was originally developed in Mesopotamia. The source of the first cobalt blue pigment used in China was also not Chinese and the dynastic power in charge of China at the time, the Mongol's of the Yuan dynasty, was a foreign power. Yet blue and white porcelain will for ever be linked to China because of the ceramics produced at Jingdezhen from the beginning of the 14th century.
Blue cobalt pigment was sometime used in China during the Tang dynasty (618-907) nearly always as an additional colour in Sancai pottery but the first use on porcelain was at the start of the 14th century. It was used in a very different way, unlike the Tang where splashes of cobalt were used to add colour, the Yuan potters used it to create carefully painted designs. This would have been very difficult to achieve using the the high-flux lead-glazes of Tang pottery.
The body developed for blue and white porcelain at Jingdezhen was almost from the very beginning of exceptionally high quality, as was the glaze, which was midway between a Qingbai and Shufu glaze. This true lime-alkaline glaze was less fluid than Qingbai glazes so the blue was less likely to run and less opaque than Shufu glazes so the painting appeared more brilliant. Most of the imported cobalt blue pigment used for Chinese blue and white porcelain of the 14th and 15th centuries came from Kashan in Persia.
For further reading about early Chinese blue and white porcelain see : Chinese Glazes, Their Origins, Chemistry and Recreation (Nigel Wood, A & C Black, London, 1999).