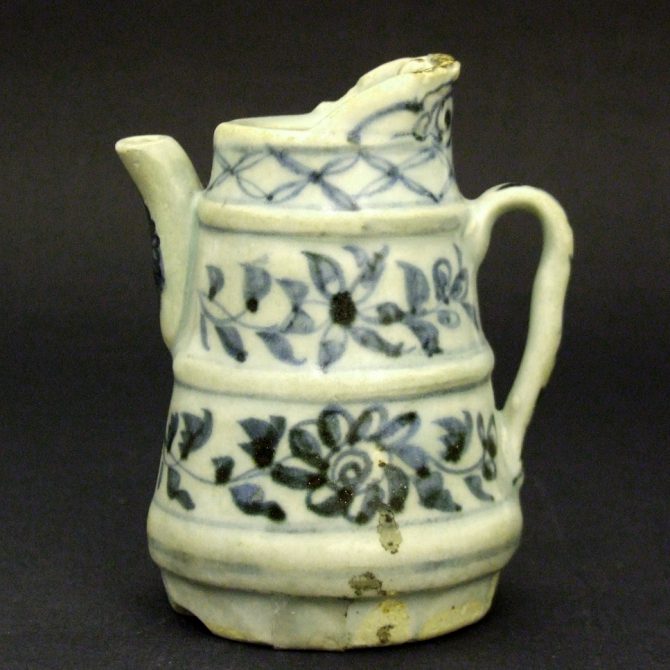 YUAN 1279 – 1368. Early Blue and White Porcelain
A Rare Yuan Blue and White Porcelain Monk`s Cap Ewer c.1320 – 1360. Decorated in a Dark Deep Cobalt with a Border of Cash Emblems, the Main Body is Painted with Scrolling Daylilies (Hemerocallis) and Chrysanthemums.
SOLD
Condition

The spout has been poorly restored, the majority of it appears to be missing, the original spout should be longer and have a kink in the middle so that the end is at a steeper angle than the part closest to the body of the ewer

Size

Height : 9.5 cm (3 3/4 inches)

Provenance

Provenance : Old label to the base "YUAN Ewer, only two other examples known in blue/white".

Stock number

21547

References

A photocopy that accompanies this ewer from a book or catalogue shows a very similar Yuan porcelain ewer, under the description is a reference which reads "The only other known example of this type of ewer is in a private collection in the Philippines. Compare this ewer with similar ying Ch`ing ones in Joseph, Chinese and Annamese,p.31 and Locsin,Oriental Ceramics, plate 75. Similar examples of ying Ch`ing ewers were probably based on larger wooden prototypes". "The only other known example" mentioned in the photocopy is highly likely to be the ewer formerly in the collection of W.Troesch which was in Philippines and is now Baur Foundation, this is illustrated in : Chinese Trade Ceramics for South-East Asia, Collection of Ambassador and Mrs Charles Muller (Monique Crick, Foundation Baur, Musee des Arts D`Extreme-Orient, 2010. ISBN 978-88-7439-463-0) page 236 plate 137.
Information

Monk`s Cap Ewers :
Monk`s Cap Ewers get their name because of the raised shaped protrusion above the handle of the ewer, this bares some resemblance to a Tibetan Buddhist`s head-gear. From the 14th century the Chinese were influenced by Tibetan Buddhism, some Tibetan Buddhist practices were adopted and adapted to suit Chinese tastes and customs. So, therefore it can be seen as unsurprising that some of these ritual Tibetan forms were copied by the Chinese, they include the Kundika (water sprinkler) as well as Monk`s Cap Ewers. The Tibetan original would have been of wood or metal, its function being to hold milk. The ridges around the form are sometimes referred to as being in imitation of bamboo sections, but they are in fact representations of the strengthening needed to keep the shape in tact, rather like the metal-bound rings around a barrel. Chinese porcelain ewers of Monk`s Cap form were made at many periods from the 14th century onwards, the most important being the highly developed and sophisticated Imperial wares of the 15th century