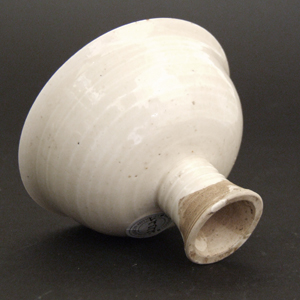 YUAN 1279 – 1368 Huozhou Ware
A Yuan Dynasty Huozhou Ware Stem Bowl, Huozhou Kilns, Shanxi Province, 13th or 14th Century.
SOLD
Condition

Perfect.

Size

Height : 5.9 cm (2 1/3 inches) Diameter : 8.7 cm (3 1/2 inches)

Provenance

N/A

Stock number

22325

References

For a very similar Huozhou stem bowl see : A Survey of Chinese Ceramics, Vol 3. Liao, Hsi-Hsia, Chin and Yuan Wares (Liu liang-yu, Aries Gemini Publishing Ltd, 1992.ISBN 957-9259-03-8) page 219. For two Huozhou ware stem bowls of a rather squatter form see : Chinese Ceramics from the Meiyintang Collection, Volume One (Regina Krahl, Azimuth Editions Ltd, 1994. ISBN 1-898592-02-0) page 277, items 511, 512. For a further Huozhou stem bowl described as Ting (Ding) type see : Fine Chinese Ceramics and Bronzes, The Property of W.W. Winkworth, Sotheby`s & Co, London, 12th December 1972, lot 25.
Information
Huozhou Ware :
After the end of the Jin dynasty the importance of Northern China as a ceramic production center diminished rapidly. A rare exception is the fine grained white stoneware produced at Huozhou in Shanxi province during the Yuan dynasty. It appears similar to Jiexiu ware but the clay is possibly even whiter and the glaze has a warmer colour. However, it is the firing techniques that clearly distinguish the two wares apart. Huozhou wares are fired on very fine small spurs, and inevitably this leaves tiny marks behind, either in the glaze or on the unglazed footrim. Jiexiu wares are fired on circles of clay wiped clear of glaze so there are no spur marks.