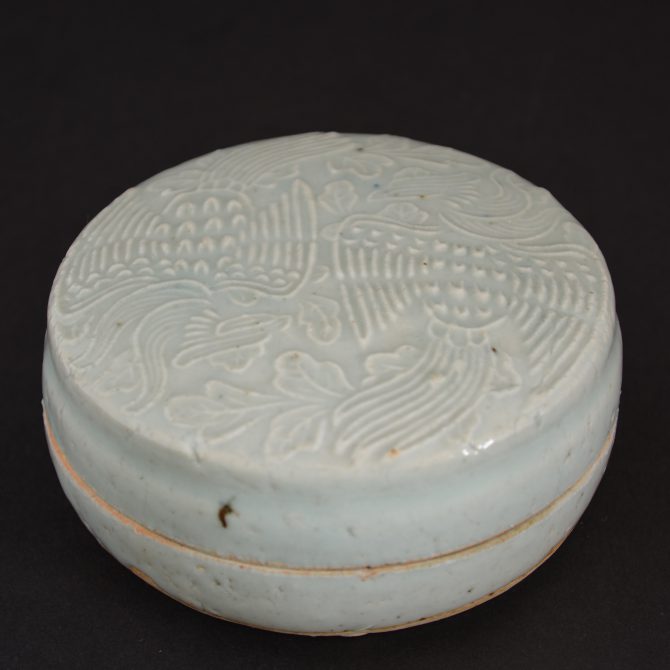 YUAN 1279 – 1368 Qingbai Ware
A Yuan Dynasty Qingbai Moulded Box and Cover, Probably Jingdezhen Kilns,13th or 14th Century. The Top of the Circular Box is Moulded with a Pair of Fenghuang (Phoenix) in Low Relief.
SOLD
Condition

In good condition, there is a shallow rectangular chip to the interior c.13 x 5 mm.

Size

Diameter : 8.2 cm (3 1/4 inches).

Provenance

N/A

Stock number

22936

References

For a nearly identical box and cover attributed to Jingdezhen see : Chinese and South East Asian White Ware found in the Philippines (Oriental Ceramic Society of the Philippines, Oxford University Press, 1993. ISBN 0-19-588615-1) page 102, plate 92.
Information
Phoenix / Fenghuang :
Fenghuang are mythological birds of East Asia that reign over all other birds. The males are called Feng and the females Huang. In modern times, however, such a distinction of gender is often no longer made and the Feng and Huang are blurred into a single feminine entity so that the bird can be paired with the Chinese dragon, which has male connotations. The Fenghuang is also called the `August Cockerel` since it sometimes takes the place of the cockerel in the Chinese Zodiac. In the West, it is commonly referred to as the Chinese phoenix. The Fenghuang has very positive connotations. It is a symbol of high virtue and grace. The Fenghuang also symbolizes the union of yin and yang. In ancient China, they can often be found in the decorations for weddings or royalty, along with dragons. This is because the Chinese considered the dragon and phoenix symbolic of blissful relations between husband and wife, another common yin and yang metaphor. In some traditions it appears in good times but hides during times of trouble, while in other traditions it appeared only to mark the beginning of a new era. In China and Japan it was a symbol of the imperial house, and it represented `fire, the sun, justice, obedience, and fidelity`.
Qingbai Ware :
The earliest known qingbai wares were produced in Jingdezhen in Jiangxi province around the late 10th century and are characterized by faint pale-blue glazes on low, wide forms. Qingbai continued to be enormously popular and highly produced throughout the Song dynasty (960-1279) and was prevalent in the Yuan dynasty (1279-1368), but slackened during the Ming dynasty (1368-1644) until being replaced by tianbai, 'sweet white' ware. The initial forms of qingbai were simple bowls and dishes, but by the mid-Northern Song the forms had advanced to include a wide variety of objects used for daily life such as ewers, boxes, incense burners, granary models, vases, jars, sculptures, cups, cupstands, water droppers, lamps, grave wares, and tools for writing and painting. The precedent for the majority of these forms is found in earlier metalwork and lacquer and Rawson has suggested that the imitation of silver was the primary force behind the production of white wares, including qingbai. See our `History` section for more information about Song Porcelain and Stoneware by Mindy M. McDonald.