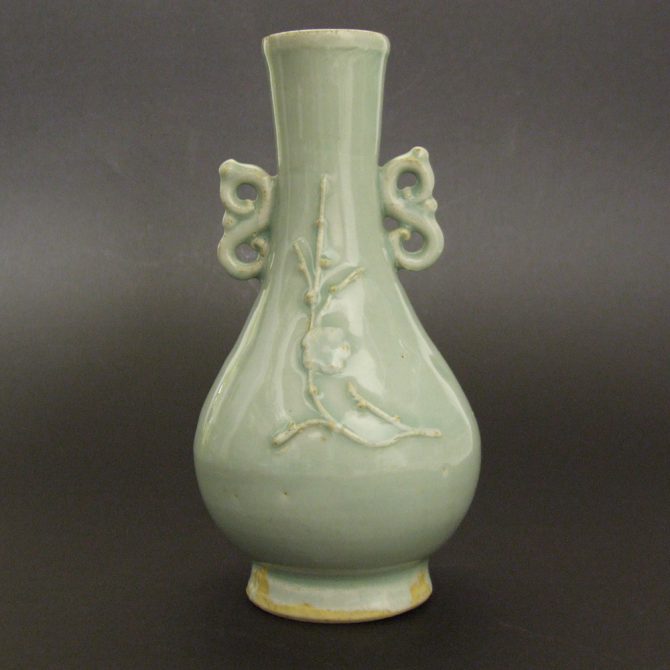 YUAN 1279 – 1368 Qingbai Ware
A Fine Yuan Qingbai Porcelain Plum Blossom Vase, Probably Jingdezhen Kilns, Jiangxi Province, c.1300-1340. This Elegantly Potted Qingbai Vase is Decorated with a Single Applied Sprig of Meihua Prunus (Plum) with One Open Flower. The Branch and Buds of the Plum are Created Using Wet Clay Applied by Hand Where as the Flower is Moulded. The Pair of `S` Shaped Handles are Hand Constructed Rather than Mould Made. The Glaze is Bright and of a Strong Blue.
SOLD
Condition

Perfect.

Size

19 cm (7 1/2 inches).

Provenance

An advertisement from Apollo Magazine of September 1934 shows this vase was being offered for sale by the London dealers Sydney L. Moss (see the last picture for a scan of this advertisement). The Advertisement states A rare Chinese porcelain vase, height 7 1/2 ins., with Ying-Ching glaze of pale celadon. Mint condition. Ju type glaze, Sung Period 960-1279. This superb piece will be shown on our stand (No. 22) at the Antique Dealer`s fair, Grosvenor House, Sept.21 to Oct 13th."

Stock number

22475

References

For a very similar Yuan Qingbai vase See : Jingdezhen Wares, The Yuan Evolution, Catalogue of an Exhibition Presented by The Oriental Ceramic Society of Hong Kong and the Fung Ping Shan Museum, University of Hong Kong 23 March to 31 May 1984 (The Oriental Ceramic Society of Hong Kong,1984.) page 96, plate 29. For a vase of this type with a very similar applied prunus sprig but with See : Cultural Relics Found Off Sinan Coast (Various authors, National Museum of Korea 1977) plate 188. For a related Yuan Qingbai attributed to the Jingdezhen kilns See : Chinese and South East Asian White Ware found in the Philippines (Oriental Ceramic Society of the Philippines, Oxford University Press, 1993. ISBN 0-19-588615-1) page 79, plate 39.
Information
Qingbai Ware :
The earliest known qingbai wares were produced in Jingdezhen in Jiangxi province around the late 10th century and are characterized by faint pale-blue glazes on low, wide forms. Qingbai continued to be enormously popular and highly produced throughout the Song dynasty (960-1279) and was prevalent in the Yuan dynasty (1279-1368), but slackened during the Ming dynasty (1368-1644) until being replaced by tianbai, 'sweet white' ware. The initial forms of qingbai were simple bowls and dishes, but by the mid-Northern Song the forms had advanced to include a wide variety of objects used for daily life such as ewers, boxes, incense burners, granary models, vases, jars, sculptures, cups, cupstands, water droppers, lamps, grave wares, and tools for writing and painting. The precedent for the majority of these forms is found in earlier metalwork and lacquer and Rawson has suggested that the imitation of silver was the primary force behind the production of white wares, including qingbai. See our `History` section for more information about Song Porcelain and Stoneware by Mindy M. McDonald.
Plum Blossom :
Plum Meihua is one of the most important plants in Chinese art. Their flowers grow on knurled old angular branches, the flowers are fragile and pure, so they can be a symbol of vigour in old age as well as purity. The tree is the first to flower after the long hard winter, symbolically it can represent perseverance as well as renewal. This meaning is enhanced by a background of cracked-ice, the design can be seen as representing the end of winter and the beginning of spring with the ice of winter cracking to reveal a new year dawning. Branches of plum blossom convey the `Five Blessings` Meikai wufu, longevity, wealth, health, love of virtue and a peaceful death. The number five, an auspicious number to the Chinese, is taken from the five petals of the plum flower.