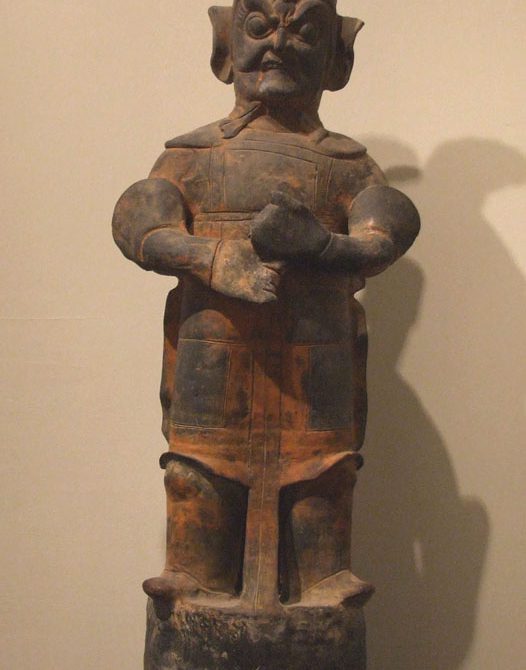 YUAN DYNASTY 1279 – 1368. Yuan Mingqi Pottery
A Massive Yuan Mingqi Pottery Tomb Guardian. This Substantial Yuan Pottery Figure is Depicted Standing and Wearing a Uniform with a Helmet. His Hair is Tied in a Plat and is Constructed Separately, Fitting in to an Aperture on Top. His Ugly Ferocious Face is Designed to Warn Off Evil Spirits.

SOLD
Condition

The base is extensively restored, one arm has some restoration. The separate hair-knots is also restored. Other minor repairs and chips

Size

Height : 89 cm (35 inches)

Provenance

N/A

Stock number

21395
Information

This piece is an example of Mingqi, objects made specifically for burial, to be taken with you to the afterlife. The `Terracotta Army` is the most famous example of this type of burial object. Mingqi ceramics were not the only goods to appear in early Chinese tombs, objects that did function were also buried, some of these had clearly been worn or even damaged, presumably these were things belonging to the deceased that might have been used on a daily basis.