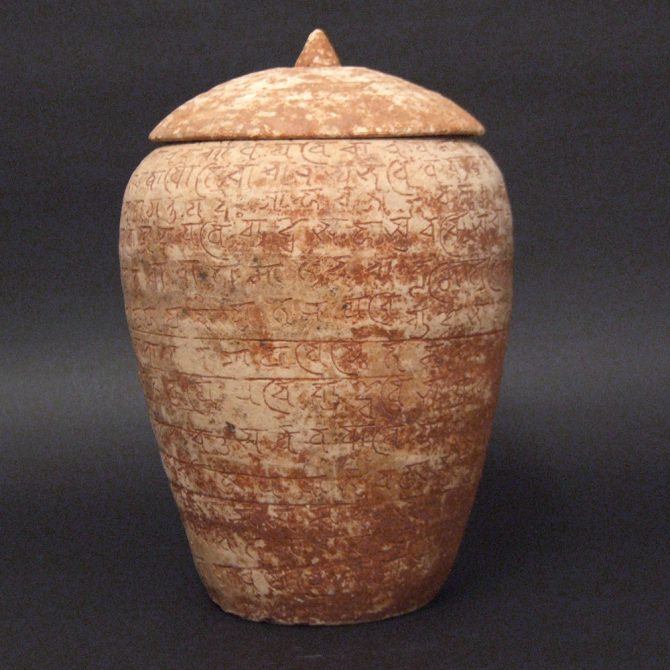 YUAN DYNASTY. 1279 – 1368. Yunnan Pottery
An Unusual Yuan Pottery Jar and Cover from Yunnan Province. The Body Extensively Inscribed with a Non-Chinese Script. The Inscribed Characters were Added When the Clay was Wet, Some of Which Extended to the Base. The Cover is Undecorated.
SOLD
Condition

Very good, no damage but some shallow soil incrustation to the surface in places.

Size

Height : 24.6 cm (9 3/4 inches).

Provenance

N/A

Stock number

21717

References

For Similar Yuan Pottery Examples See : Offering Vessels of Yunnan (Michael C. Teller IV, TK Asian Antiquities,2004) Pages 36 -37, Items 21-23. The Introduction of the Catalogue States that "A large number of jars have some calligraphy, both Chinese and as yet (an)unidentified script, which bears significant similarities to post 10th century Devanagari, a script used to write sacred Sanskrit texts. Approximately 1% of the jars, however, have script all over the vessel...". Another inscribed Yuan jar of this type is illustrated in : Fine Chinese Ceramics and Works of Art, Sotheby`s New York, 22nd and 23rd of September 2004, lot 129. For other examples of these Yuan jars see our `Sold` items stock numbers 17612 and 19093.