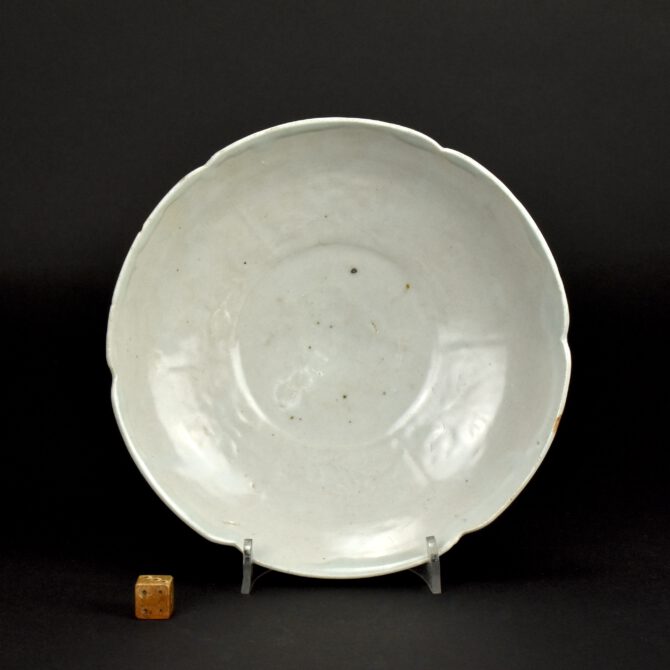 Yuan Dynasty Porcelain Shufu Style Bowl
Yuan 1279 - 1368
A Yuan Dynasty Porcelain Bowl Shufu Style Bowl, Shufu or Qingbai, Jingdezhen, Jiangxi Province, early to mid-14th century. This foliate dish has a moulded design of flowers in panels, the sunken center appears to be very lightly moulded. This shallow lobed Yuan (1279 – 1368) porcelain dish is very similar to Shufu ware, it might actually be Shufu. The design and potting look similar to Shufu, but the glaze is quite gray-blue, both wares were made at Jingdezhen. Qingbai ware was made in the Shufu style.
See Below For More Photographs and References.
SOLD
Condition

Damaged ; There is a long uncleaned crack, mostly showing on the back, where a small chip has been crudely repaired. There are scratches around the repair, they look more dramatic in the photographs than in life.

Size

Diameter : 16.2 cm (6 1/4 inches).

Provenance

N/A

Stock number

25556
Information
Shufu / Luanbai
Shufu is a very specific type of Chinese white porcelain ware made during the Yuan dynasty (1279-1368) in Hutian village just outside the city of Jingdezhen, Jiangxi province. Thought to be the first known porcelain ordered by imperial officials. The body of the ware is covered with a soft, white, bluish opaque glaze similar to qingbai, but contained less calcium oxide resulting in slight translucency rather than transparency. The bases are unglazed and the paste is of the typical early natural porcelain clay of Jingdezhen. Many have moulded low-relief decoration. The ware takes its name from the Chinese characters shu and fu, which appear in low relief on the interior on some bowls and dishes (literally "central palace," or "privy council"). These are believed to have been made for the Shumiyuan, a government department. Other, auspicious, characters also appear on porcelains of this type, some of which were exported.
Luanbai (egg white glaze) and shufu are two different names for the same glaze. The term shufu became the accepted name (and more often used) as so many items with this glaze bore the characters of shu and fu in relief on their interiors. Their glaze was more opaque than that of qingbai and had a silky rather than a glossy texture, hence the ware's other name luanbai (egg white).
During the Yuan period the Jingdezhen potters made some relatively minor adjustments to the highly successful qingbai glaze composition creating two new glazes, the shufu/luanbai glaze and as a further development the glaze used with underglaze blue decoration. The basic difference between qingbai, shufu/luanbai and the glaze on the underglaze blue wares was the amount of calcium oxide they contained. Qingbai contains 12-13%, shufu/luanbai 5-6%, and the glaze used on Yuan blue and white wares was 8-10%.
Robert McPherson Antiques - Sold Archive - 26113
A Yuan Dynasty Shufu Porcelain bowl, Hutian kilns Jingdezhen, Jiangxi province, c,1400-1450.