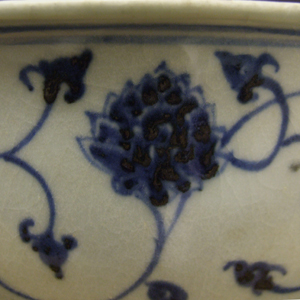 ZHENGTONG to TIANSHUN c.1436 – 1464 Ming Interregnum Porcelain
A 15th Century Ming Blue and White Porcelain Bowl from the Ming Interregnum Period of 1436 to 1464. Painted with a Free Flowing Open Lotus Scroll Design.
SOLD
Condition

Good, extensive clean broad and fine crazing, some friting to the rim.

Size

Diameter : 16 cm (6 1/2 inches)

Provenance

A Private English Collection of Chinese Blue and White Porcelain.

Stock number

22344
Information

Ming Interregnum :
The Interregnum Period includes the Reigns of Zhengtong 1436-1449 Jingtai 1450-1456 and Tianshun 1457-1464. The first and last are the same emperor Zhu Qizhen, he came back to power but changed his title name from Zhengtong meaning Right Government to Tianshun meaning Obedient to Heaven.
Ming Interregnum Shipwreck Porcelain :
This Ming Interregnum Porcelain bowl appears to be from a shipwreck, as does the Interregnum leaping carp dish stock number 19504, and the Interregnum bowl 21090 in our `Sold Items`. It is possible that they come from the same shipwreck as porcelain from this period is quite rare. I have seen photographs of Ming Interregnum porcelain from the wreck of the Hoi An said to have been used by the crew, but as yet there is no known connection between the present example and the Hoi An Hoard. Another possible, maybe more likely source for these pieces is the shipwreck find at Pandanan Island near Palawan, Philippines. They could of cause be from different shipwrecks. See : Chinese and Vietnamese Blue and White Wares Found In The Philippines (Gotuaco, Tan and Diem, Bookmark Inc., 1997. ISBN 971-569-246-X) page 124, plate M14.